Are you someone who likes to expand chatbot capabilities with cognitive services and custom skills/someone who sees the beauty in writing codes and fixing random features they develop?
If you scrolled down our website, you might have realized we care about integrity and open communication. That's why, before you join our team, we would like to give you a chance to find out what are the team and job all about. 🙂
What will your workday look like?
Team sync meeting at 9 o'clock – be there or be 🟧. We like to take half an hour every day to go through finished tasks and the ones yet in front of us. In our experience, frequent syncs keep everyone updated and minimalize miscommunication. Besides, an extra pair of eyes and hands never harmed anyone.
We let you define your working hours. As long as you keep up with your team responsibilities and client communication, you can do your 8 hours whenever you like. If you start at 7 AM, you will most likely already see someone from the team online.
Most of the day, you will work on projects - usually more than one, to keep things interesting. That way, you can switch between the tasks and catch up with deadlines at a pace that suits you.
Working on multiple projects also means working with colleagues. Having someone to share your thoughts with turned out to be the most effective approach for developers. Since we deliver end-to-end solutions to our clients, sometimes you will work with ADA (Advanced Data Analytics) or BPA (Business Process Automation) team. Friendly humans – would recommend.
If not by working together on projects, you will get to know them on Čelin - an after-work pelin we drink on Thursdays.
Programming languages and libraries we are using
On the frontend, we are using React with MaterialUI, but we still have some vanilla JS, jQuery applications with Bootstrap. Guys on the backend are working with .NET Core framework and are using SQL databases. Our chatbots are built on Microsoft Bot Framework, also using .NET Core.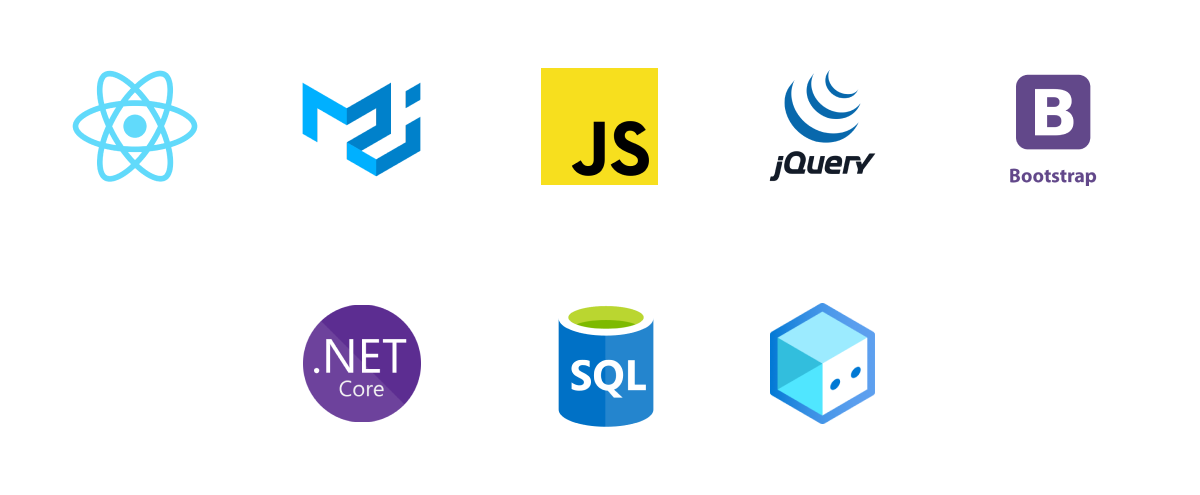 Most of our applications are deployed to the Microsoft Azure cloud, but some clients have applications deployed on their infrastructure. Enough about the languages, we know what your next question is. ⬇
Will you develop chatbots only?
Chatbots are one of our specialties. So far, we have created an army of 26 of them we are proud of, and currently, we are working on a voice bot. But, no, you won't only develop chatbots. Depending on your skills, expertise, and aspirations, you will work on custom web apps, web dashboards, and chatbot manager apps.
Meet the team 😃
DEV team gathers four brilliant darkish-haired men. Each of them has a different skill set, but none knows how to describe himself precisely.
Mateo is a person that does more and talks less. He specializes in chatbots and being on time for his workouts – a pretty good work-life balance, in our opinion. When Mateo is at work, he will help you in any way he can; when he clocks out, not even CEO can reach him.
Tomo still submits papers at Uni and rocks when it comes to table tennis. Working part-time due to university responsibilities doesn't stop him from being a voice bot master. Despite innovative ideas at work, formal education still comes first, and somehow often on – Friday.
"Voice bots are the future of customer service and thanks to Tomo we've stepped into the voice bot game ourselves. Great job, man." - Mateo from the previous paragraph
Petar studies at the same faculty as Tomo but with different aspirations. He is a part-time student and a full-time frontend. More importantly, he is bribable. Bring a beer, and you have his attention. (But 🤫, you didn't hear that from us.)
"The fact that I have someone by my side who can bring my ideas to life coding-wise really makes my day. Thank you, Petar, for being our frontend expert." - Tina, our marketing person

Branimir is a new guy. He started coding when he was 14 and likes to focus on C# and .net technologies. Due to his strong will to further expand his programming skills, he studies software engineering in his free time.
Leon is a person with two faces. The sunshine one when having lunch, and the ice-cold one when going back to work. You may think he is angry, but no. He is focused. This not-so-darkish-haired man is a self-taught developer thinking of python as his undercovered mission. Leon is a man of multiple missions - once, when racing with his colleagues, he wanted to reach the 14th floor first. He succeeded.

Want to expand your programming skills working next to these guys? 😎