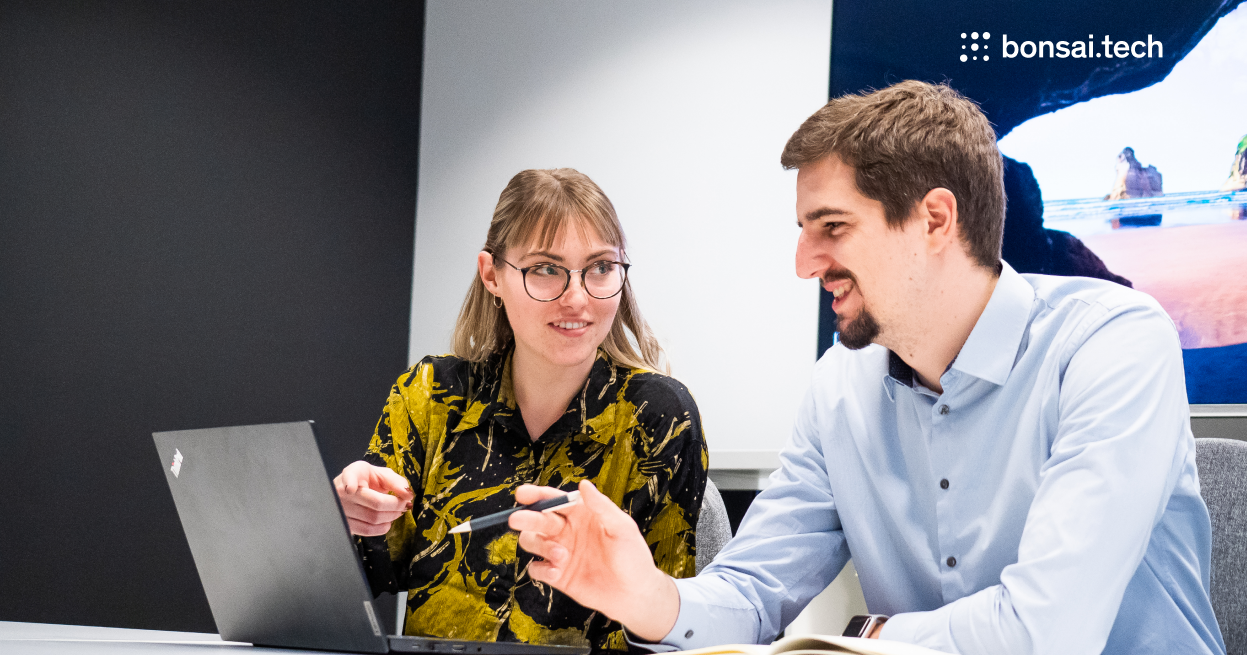 One of the benefits of startups and small companies is noticing the right person and being able to tailor the job position to them. It is a chance to hire a person who fits the company culture perfectly and shows remarkable ambitions. Giving free hands to them suits their versatility and ability to adapt to many things.
"A jack of all trades is a master of none, but oftentimes better than a master of one."
For example, Luka is one of those people. He recently applied for the business analyst position and got the job as a solution consultant. Why, what happened? The solution consultant role suited him perfectly.
He is a man with a few years of sales working experience in multinational companies, a math student who is pursuing a Data Science degree, and a person with a beautiful desire to find his niche in the tech world. The man is perfect for getting to know our technologies, talking with clients, and connecting solutions to business needs.
Luka, how did you find yourself here in the first place? And since you didn't apply for your current job position, how do you feel about your role?
I saw bonsai.tech was searching for a business analyst. That being a standard entry-level position to a fast-growing industry and company, I decided to give it a go. Hoping I will learn new things and find my exact place and position in the process.
To my surprise, I was offered a job that allowed me precisely what I hoped for – an interdepartmental position, meaning I have direct exposure to all of the technologies processes used.
Tell us more about the selection process. How would you describe it to future candidates?
The selection process consisted of a few steps, a few casual meetings to be exact. First, I had an interview with the team lead and the project manager, then a coffee with a psychologist, and lastly, with the director, the team lead, and the HR.
All in all, a straightforward process. The thing that really stood out is how, during the process, an emphasis is put both on your fit to the company culture and how the company fits your goals and aspirations.
Let's take a closer look at each stage. How did you feel after the first interview?
After that first interview with Davor and Martina, I knew this was the company I wanted to work for. The easy-going vibe, young team, rapidly changing environment, and departments built around data and AI helped me solidify my decision.
There was a coffee with the psychologist, you said. Were you frightened of the possible questions?
The unconventional coffee with the psychologist was a refreshing experience. Since I did a bunch of interviews before this, I knew I was prepared, but I was surprised not to hear all of the usual questions. The idea is to get to know you, your way of thinking and to evaluate your goodness of fit.
And, as a cherry on top, a coffee with the director? How did that turn out?
Slaven is a casual guy. He, Davor, and Ana were good company, and the idea behind this third meeting was to get to know each other even better. They introduced me in more detail to my job description, to the company's needs and the wanted business development, while taking a chance to hear more about my professional development plans.
Well-caffeinated, you chose to become part of our team. What do you see as the biggest bonsai.tech strength?
bonsai.tech is a fast-growing company that does amazing projects with international clients. One of the metrics is continual growth, both professional and personal. It is a great place for someone who wants to learn and grow on a daily basis. The biggest strength is the size – we are able to quickly respond to changes in the market and the demands of future clients.
Thank you, Luka, for this lovely chat. And plenty of success in your new job!