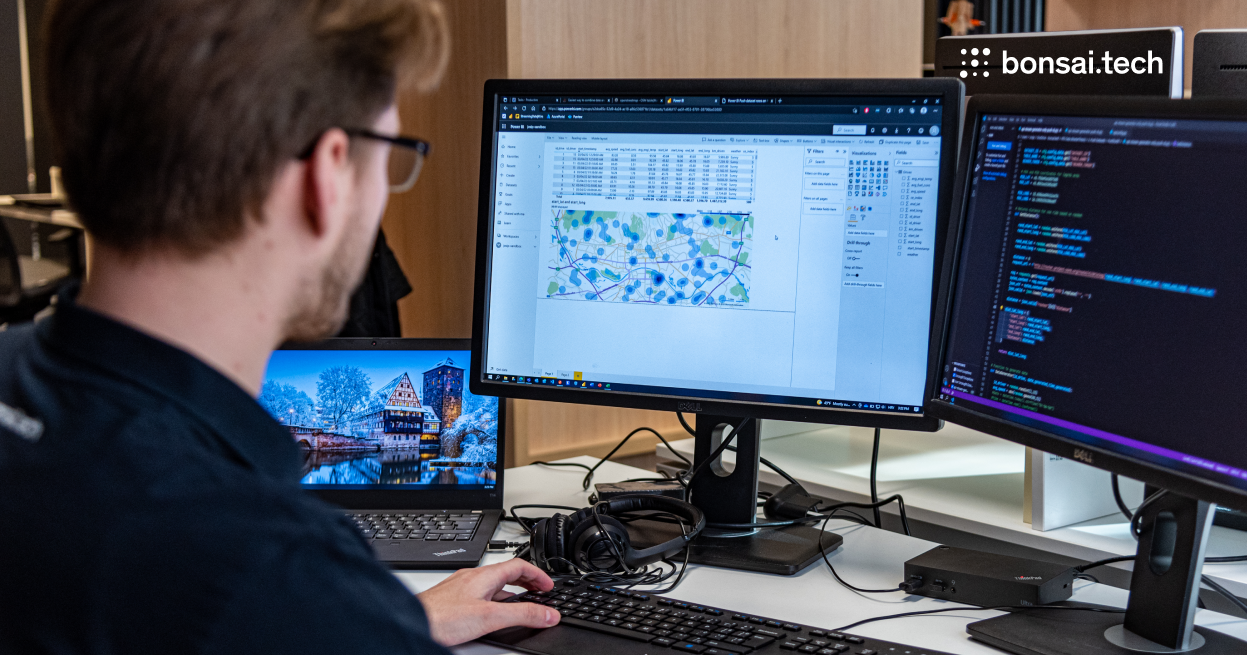 Are you someone who thinks outside of the box and has a drive for challenging but exciting analytics projects? Great, let us introduce ourselves!
If you scrolled down our website, you might have realized we care about integrity and open communication. That's why, before you join our team, we would like to give you a chance to find out what are the team and job all about.
First things first - will your day come down to clicking in excel?
Excel is one of our beloved friends since it's easy to create, maneuver with, and share with our dear non-ADA people. So, yes, you will use excel, but quite rarely and only for double-checking data consistency. For data analysis, we prefer other, more competent, and exciting tools.
The technology you will be using
Depending on the project, you will have an opportunity to explore and use different tools and technology. For example, starting from Data Factory, Databricks, and python for data integration, Data Lakes and SQL databases for data storage, SQL and PowerBI tools for data analytics and visualization. Even though these technologies make up most of our days, we like to experiment with anything new that comes our way.

How will your typical day look like?
The first rule about a typical day: You never have a typical day. Even though your team role is defined, daily tasks may vary due to unpredictable project changes. For example, sometimes you work on creating a solution, and other times you participate in clarifying requirements with clients.
Sometimes, the only constant in a day may be the team sync we have every morning. We like the idea of being mutually supportive and able to share thoughts about current projects. So, first, we chit-chat, and then we get down to business.
The good news is, you don't have to wonder what you will do Thursdays after work. That's Čelin time- an informal socializing with pelin.
Meet the team
ADA is currently a four-wheel team. Ivana, Marija, Ana and Petra are the ones making our analytical projects rolling.
Ivana came with a mission to expand her knowledge in cloud technology, and Microsoft Azure, which we often use, has shown as a good stepping stone. Her expertise with on-prem data analytics systems, data warehousing, and data engineering helps her to master the cloud painlessly. She likes to explore new ways both inside data engineering and while hiking.

Marija started as a student and ended being our PowerBI expert. She makes sure that clients easily understand data gathered from multiple sources. Her willingness to help others encouraged her to hold an internal workshop to show other colleagues how to get the most from the tool. She is both easy-going and enthusiastic about learning new things.
Workshop evaluation:
"Tough act to follow. Both in content and execution." - Adriano, Technology & Innovation Manager
"Thanks to Marija, we are now able to visualize data more efficiently." - Martin, our RPA developer
"I am no longer resistant to PowerBI. Nice work!" - Sana, also our RPA developer
"Marija managed to break down this complex tool into simple guidelines." - Petra, Marija's boss
Ana joined the ADA team as a data analyst, and her impact is greatly seen. Her creative and affective design ideas are often expressed through easy-to-read and customer-oriented reports. She may not talk a lot about herself, but her self-made dresses show her colorful personality.
Ivan came to help Ivana with data engineering stuff, so his days are filled in with SQL databases, API resets, and python battles. Besides a great fondness for python, he loves his job and his buddy so much he travels 18 km in one way every day.

Josip is also here to help with data engineering matters, and as a matter of fact, he is doing it very well. He is winning all of his battles versus database access rights, catching streams of data to process them which is no wonder since he perfectioned his martial arts on the basketball court.

There is another Ivana on our ADA team, and her job description covers data analytics. While learning from Ana about data visualization, she also expresses her creativity through mug painting.

Petra is the person keeping the team up and running. Her analytical and sprint-oriented approach will keep you on track to do your best work. She will be there for you, whether you need help with some project or a coffee break. Her calming voice will keep you cool when things get fast-moving.
"3 things that always amaze me about Petra: always does her best to translate the clients' idea into something tangible, even if it's complex; supports her team members whenever they need her; is eager to learn from anyone on the team" -Kika, our PM
Would you like to help us become a five-star team?